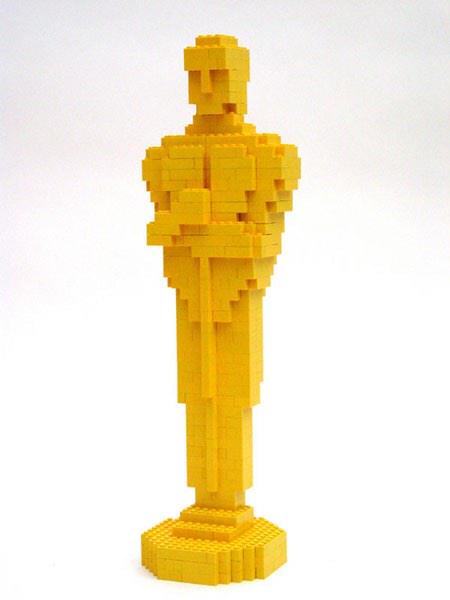 Philip Lord, LEGO's director/writer tweeted this pic with a statement: "It's okay. Made my own."
Not the nominees reactions - we're talking about the ones that matter: ours!
Editor:
Biggest flub
: See title of this post.
Biggest snub:
Forget Selma, which wasn't happening anyway. You want to talk shocking snub? The LEGO movie. What. The. Heck. I've seen Song of the Sea, it was cute. CUTE. Quaint, even. In spite of my hatred for product placement, whatever, I think LEGO was actually a really decent movie. I am shocked. Although, in some ways, it really does say something about the Academy conservatism and snootiness. I guess they just didn't want to nominate something that calls itself the-toy-it's-trying-to-sell movie. A total undeserving snub.
Righteous Win in Predix:
Marion Cotillard. Even
she
didn't expect it. But I knew. The Academy loves her.
"Well that's just plain strange turn of events"
: "Foxcatcher getting Director without Picture" duking it out with "Why the heck did Selma get a best picture without anything else?" (Song does not count all that much)
Sad little Snub: I was rooting for Force Majeure, and more than a little surprised that it didn't get nominated. It was such a crowd pleaser. Maybe a little off kilter, but funny as heck. It could be that the ending threw people off? That Timbuktuu has better be good.

Another Sad even littler Snub: Ralph Fiennes. He should've gotten in considering how Budapest seems to be picking up so many nominations. :(

Griz: [Are you] too distraught and depressed that The LEGO Movie wasn't nominated for Best Animated Film?! I wouldn't blame you!! Holy crap, what a snub! That's gotta be the biggest one in a long, long time, in any category. What a blunder. Even if an animation voter didn't love the story and such, surely they could see the unique style and animation approach of it? It's hard to fault any of the films that were nominated (Song of the Sea, yay, no matter what you say!) but damn.. Everything is NOT awesome.

Yay for The Grand Budapest Hotel! Wes Anderson's first nomination for Best Director, would ya believe it? I really didn't think it was going to be a player at all at the Oscars a few months ago, beyond a few tech categories. So glad it wasn't forgotten about. Oh, and Robert Yeoman got his first Oscar nomination too, I've adored his cinematography (especially for Wes Anderson, of course) for so long, so that's a thrill.

Lots of weird stuff going on with these nominations though. Bradley Cooper got in for actor, but Clint Eastwood missed out despite a DGA nomination. Bennett Miller got nominated for Best Director, but Foxcatcher didn't make it into Best Picture, despite 8 BP nominees?! What the hell? OH OH OH, and Gone Girl got ONE nomination. Just one for Nightcrawler too, poor Jake Gyllenhaal. And only two for Selma, which makes it even more bizarre that it got into Best Picture. How can a movie so unloved in all categories (except for song) get a Best Picture nomination? The power of Oprah, I guess.

Inherent Vice got a bit of love too, which neither of us were predicting.. You can't ever count out P.T. Anderson! I know you weren't in love with it, but I'm still excited to see it.

I thought long and hard about it, but ended up going with Amy Adams because she generally gets nominated for every freaking thing. I should've at least had Cotillard as an alt, why did I ever think Aniston had a shot?

Anyway, ignoring the LEGO Movie snub, I'd say these were pretty good nominees? Not too much bait stuff, although surely some more worthy contenders missed out too.

Also, since when does Alejandro Gonzalez Inarritu go by Alejandro G. Inarritu? The Gonzalez part is the only part of his name that people could ever pronounce! If anything he should go by A. Gonzalez I.