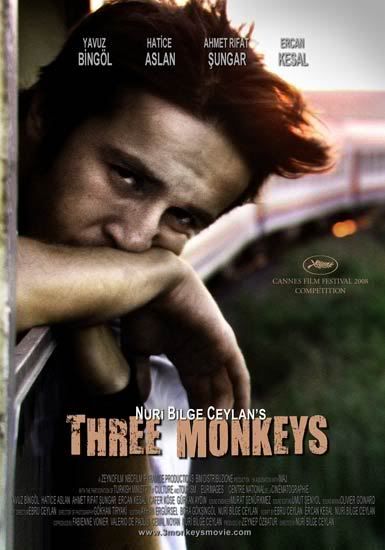 Title:

Üç maymun (Three Monkeys)


Director:

Nuri Bilge Ceylan


Language:

Turkish


Year:

2008


Critical Reception:

Screened at Vancouver Film Festival 2008, metacritic rating of 73%, Winner of Cannes 2008 for Best Director


Psych Index:

Intimate


In Brief:

The film unfolded at a steady pace by the assured hand of the Turkish photographer cum director Nuri Bilge Ceylan, who directed the wonderful, equally austere Cannes' Grand Jury Prize winner Uzak (Distant, 2002). Three Monkeys won him yet another Cannes prize earlier this year, this time as a director, making him one of the international directors to watch. His background as a photographer showed in the composition of the shots and the mood captured in each frame. With Monkeys, he'd strung together a series of moving pictures, hazily beautiful, at once intimate and detached, like memories-filled traveling postcards.
Comment (SPOILERS ALERT):


The title refers to the Japanese proverbial three wise monkeys that are the pictorial maxim for "see no evil, hear no evil, speak no evil." While there exist multiple interpretations of the maxim, the one that seemed most close to the film was something of an elephant in the room. Without giving too much of the plot away, until the very end of the film, it would be hard pressed to really know what monkeys the film was referring to: the cover-up, the affair, the murder, or the missing piece to the family puzzle. May be all of them.

For a plot that was full of deceit, intrigue and passion, Three Monkeys was stripped down to the minimum, leaving only the slow decay of a family to fully occupy the screen. The events served as only as anchors for the film, for the real action that propelled the film forward was invisible on the page. Though it became apparent half way through the film's emotional catalyst may have started before the first screen appeared, the film's story technically began on a dark, winding road where a politician hit the first serious snag of the election, literally. Fearful that a hit-and-run would ruin his political career, he hired his driver to be the sacrificial lamb in exchange for a handsome sum at the end of jail time. While the driver served his sentence, leaving his wife and teenage son to manage for themselves with his monthly salary, the wife and the politician got involved in a discrete little tryst. It was not too discrete, for the son discovered his mother's little secret, much to his dismay. When the father finally came back, there was little to do to contain the emotions boiling over. One mistake lead to another, and the price to be paid for silence became the hot potato that got passed on to the nearest frog in a hole.

The film unfolded at a steady pace by the assured hand of the Turkish photographer cum director Nuri Bilge Ceylan, who directed the wonderful, equally austere Cannes' Grand Jury Prize winner Uzak (Distant, 2002). Three Monkeys won him yet another Cannes prize earlier this year, this time as a director, making him one of the international directors to watch. His background as a photographer showed in the composition of the shots and the mood captured in each frame. With Monkeys, he'd strung together a series of moving pictures, hazily beautiful, at once intimate and detached, like memories-filled travelling postcards.

The estranged characters functioned as loners in spite of their clumsy attempt to reach out for each other. Twice, the image of a single alley cat prancing across the screen contrasted with the character's shape sharing the same frame. The cry of a cat can be awfully lonely and haunting, and its presence in the film – along with the surprisingly creepy and sad missing-piece-of-the-family-puzzle – gave Monkeys a spiritual dimension befitting of the best psychological horror films. The cast felt like real people, breathing and aching like real people, packing an emotional punch to each of their performances, even if their circumstances felt a bit unreal.

There could be some comparisons drawn between the film and Robert Redford's Ordinary People. Both films dealt with family guilt, grief, and disintegration, though they could not be more different in style of expression. Whereas Ordinary People had an earthy, warm colour to the picture, Three Monkeys' brown was more green in shades. The latter also was decidedly less chatty about reasons and feelings, in keeping with the oblivion alluded to by the film's title. If you'd prefer to do the analysis yourself rather than leaving it up to a film to spell it out, Three Monkeys would probably fit your sensibilities better. Even if you'd left the film puzzled by some loose ends, at the very least it would've been a strangely hypnotic, if not pretty, journey.



Clip: