Wow this is way late, but whatever. It's been an extraordinary year. The films on this list all speak to the interconnectedness of events, people, and our time. We truly don't exist in a vacuum, and it'd be to the detriment of humanity to behave otherwise.


CINEMAPS' TOP 10
Fuocoammare (Fire at sea)
01. Fuocoammare (Fire At Sea; Rosi)
****1/2 Moving, educational, relevant, and just as importantly, incredibly cinematic.
02. Sieranevada (Puiu)
****1/2 A lively, masterfully woven tapestry of family that absorbs social impact and holds its members loosely and compassionately together as they bond, break, and repair over moments big and small.
03. Nocturama (Bonello)
**** A daring, ridiculous adrenalin ride through the lives of young rebels without a cause.
04.
Le Tortue Rouge (The Red Turtle; de Wit)
**** For when you want to feel bad about existence.
05. Arrival (Villeneuve)
**** Brilliant, original and unforgettable, from the title to the emotional end - Villeneuve's crown jewel of achievement to date.
06. Moonlight (Jenkins)
**** At once intimate and epic, it's a beautiful film with a rare narrative, offering so much love and gentleness in unexpected places.
07. Toni Erdmann (Ade)
**** Hilarious, morose, thoughtful satire that is just too entertainingly bonkers to ignore.
08. La La Land (Chazelle)
***1/2 The unmissable
joie de vivre of
our leads is deftly handled and bathed in soft but defiant light here. And for a movie musical, the music itself is the best since Chicago (not sure if that's saying much?).
09. Manchester by the sea (Lonergan)
***1/2 Heartbreaking, with the best Casey Affleck performance since The Assassination of Jesse James by the coward Robert Ford.
10. Hymyilevä mies (The happiest day in the life of Olli Mäki; Kuosmanen)
***1/2 An unusual story with lots of heart in pretty black and white frames.
La La Land
Grin and Pulse
The most fun I had watching a movie this past year
La La Land
Deadpool
Toni Erdmann
The Nice Guys
Train to Bhusan
Hymyilevä mies (The happiest day in the life of Olli Mäki)
Director
Confident storytelling, with a touch of "wow"
Gianfranco Rosi,
Fuocoammare (Fire at sea)
Bertrand Bonello,
Nocturama
Cristi Puiu,
Sierranevada
Damien Chazelle,
La La Land
Pablo Larrain,
Neruda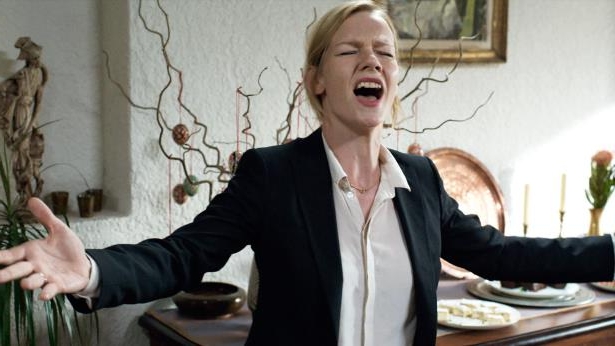 Sandra Hüller
Performance
I feel you
Sandra Hüller,
Toni Erdmann
Casey Affleck,
Manchester by the Sea
Alex Hibbert / Ashton Sanders / Trevante Rhodes,
Moonlight
Michael Shannon,
Nocturnal Animals
Oulaya Amamra,
Divines
Amy Adams,
Arrival
Ryan Gosling,
The Nice Guys
John Goodman,
10 Cloverfield Lane
Kirin Kiki,
After the storm
The cast of Sieranevada,
Sieranevada
Writing
Create interesting, layered, cohesive universe; would make for a great read on its own
Kenneth Lonergan,
Manchester by the sea
Barry Jenkins,
Moonlight
Maren Ade,
Toni Erdmann
Hirokazu Koreeda,
After the storm
Cristi Piui,
Sieranevada
Sieranevada
Editing
Interesting, effective cuts and stitches that support and move the story visually
Fire at sea
Nocturama
Sieranevada
Toni Erdmann
La La Land
Cinematography
Takes my breath away
La La Land
Nocturnal Animals
Arrival
Moonlight
Into the Inferno
Hail, Caesar!

Art Direction / Production Design Transportive, impactful set design

Hail, Caesar!

La La Land

Arrival

Kubo and the two strings

Dr. Strange

Effects Movie Magic

Arrival

Dr. Strange

Kubo and the two strings

Miss Peregrine's home for peculiar children




Sound Amplify the visuals and enrich my sensory experience

Arrival

Into the Inferno

Fire at sea
Nocturama

Score
Was it memorable?
La La Land
Arrival
Moonlight




Uncharted
Films I'm intending to see that could make a dent on the list above
Certain Women
Elle
Neon Demon
Loving
Fences
The Handmaiden
Birth of a Nation
My life as a Zucchini

Charted
Ranked out of *****
****1/2
Fuocoammare (Fire At Sea; Rosi)
Sieranevada (Puiu)

****
Nocturama (Bonello)
Le Tortue Rouge (The Red Turtle; de Wit)
Arrival (Villeneuve)
Moonlight (Jenkins)
Toni Erdmann (Ade)

***1/2
La La Land (Chazelle)
Manchester by the sea (Lonergan)
Hymyilevä mies (The happiest day in the life of Olli Mäki; Kuosmanen)
Hell or high water (McKenzie)
Umi yori mo Mada Fukaku (After the storm; Koreeda)
The Bad Batch (Amirpour)

***
Train to Bhusan (Yeon)
Silence (Scorcese)
Deadpool (Miller)
The Nice Guys (Black)
Divines (Benyamina)
Neruda (Larraín)
Forushande (The Salesman; Farhadi)
Nocturnal Animals (Ford)
Julieta (Almodovar)
Jackie (Larraín)
Frantz (Ozon)
Into the Inferno (Herzog)
Bacalaureat (Graduation; Mungiu)
10 cloverfield lane (Trachtenberg)
Hail, Caesar! (Coen)
Hunt for the Wilderpeople (Waititi)
Eddie the Eagle (Fletcher)
Captain Fantastic (Ross)
The Edge of Seventeen (Craig)
Free Fire
Hush (Flanagan)

**1/2
Kubo and the two strings (Knight)
The Jungle Book (Favreau)
The Magnificent Seven (Fuqua)
Zootopia (Howard & Moore)
Captain America: Civil War (Russo & Russo)
Rogue One: A Star Wars Story (Edwards)
Miss Peregrine's home for peculiar children (Burton)
Ghostbusters (Feig)
Moana (Clements & Musker)
Dr. Strange (Derrickson)
The Conjuring 2 (Wan)
Star Trek: Beyond (Lin)
Hidden Figures (Melfi)
The Founder (Hancock)
Colossal
Sully (Eastwood)
Jason Bourne (Greengrass)
Whiskey Tango Foxtrot (Ficarra & Requa)

**
Smrt u Sarajevu (Death in Sarajevo; Tanovic)
Fuchi ni tatsu (Harmonium; Fukada)
Batman vs. Superman: Dawn of Justice (Snyder)
Fantastic Beasts and Where to Find Them (Yates)
Zoolander: No. 2 (Stiller)

* (Embarrassing)
X-men: Apocalypse (Singer)
Assassin's Creed (Kurzel)